Santa Maria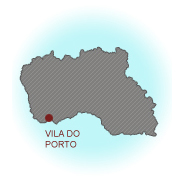 Santa Maria
The immaculate white of the houses spread throughout the green of the landscape, the great staircases covered by vineyards descending the cliffs towards the sea, the extensive beaches inviting us to enjoy the ocean and the sun, the lava stone wriggling around in the multiple curves of a stunning baroque façade… These are some of the attractions of Santa Maria Island, which will seduce those who visit the Azores to spend their holidays in contact with nature. Santa Maria offers a bucolic, quiet life and the hospitality of welcoming smiles.
Geographical Description
Located at 28º 08" west longitude and 37º 43" north latitude and moulded by deep bays, Santa Maria Island covers an area of 97.42 km2: 17 km of length and 9.5 km at its maximum width. Following a low plateau, there is an uneven area with its highest point being Pico Alto at an altitude of 590 m.
What to visit
Anjos Village
This is the place where Christopher Columbus and his men landed for the first time. Besides the chapel reminding us of those times, there is also a leisure area with a natural pool.
Praia Formosa, S. Lourenço, dos Anjos and Maia Bay
The white sand that surrounds each of these bays is very interesting. São Lourenço Bay is known for its shape, a gigantic seashell formed by stairs covered by vineyards with the ocean in front of it.
What to do
Diving
Mountaineering and speleology
Motor and sail boat tours
Sport fishing
Festivities
Holy Ghost Festivals
Grape-picking Festival
Maré de Agosto (August Tide) Festival